About Your Host
Danny Goodman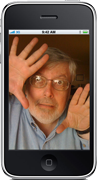 is the author of 47 books on computing and Internet technologies. He has been an active participant on the editorial side of the consumer electronics, personal computing, and scripting language revolutions since the late 1970s. Through the years, his books and articles have introduced many newcomers to the HyperCard, AppleScript, and JavaScript programming environments.
In the community of World Wide Web developers, he is widely known for several books, including:
JavaScript Bible

(Wiley)

Dynamic HTML: The Definitive Reference

(O'Reilly)

JavaScript & DHTML Cookbook

(O'Reilly)
In 2004, Danny turned his attention to the epidemic of spam and malware distribution in the book Spam Wars. Written for the general computer-using public, this book focused on educating email users about the myriad tricks being played on them by spammers, scammers, and hackers — and how to avoid even accidentally contributing to the spam economy. He maintains an active weblog at spamwars.com to warn users about the latest tricks of the spam and malware trades.
A much earlier title, The Complete HyperCard Handbook, published by Bantam Books in August 1987, claimed honors as the best selling Macintosh book and fastest selling computer book in the history of the industry. Danny Goodman's Macintosh Handbook (1993), a radical departure from traditional computer books, won Danny's third Computer Press Association award. The book's four-color design was created in collaboration with world-class information architect, Richard Saul Wurman.
To demonstrate the capabilities of technologies in his books, Danny has also developed commercial software. In November 1987, Activision published his Focal Point and Business Class programs, the first HyperCard-based products to reach retail distribution. These two products (a personal information manager and an international travel resource) received the Software Publishers Association awards for best products in three categories for 1987. Focal Point won the MacGuide Golden Gavel award based on subscribers' write-in ballots for products in 1988. In November 1988, Focal Point II shipped under Mediagenic's TENpointO label to critical acclaim.
iOS application development for the iPhone, iPad, and iPod touch platforms currently captivates Danny. In addition to writing his latest O'Reilly book (Learning the iOS 4 SDK for JavaScript Programmers), he has released three apps — iFeltThat Earthquake, BeaconAid-HF, and PhotoSize — on Apple's iTunes App Store.
Danny was born in Chicago, Illinois during the Truman administration. He earned a B.A. and M.A. (Thesis of Distinction) in Classical Antiquity from the University of Wisconsin – Madison. In 1983 he moved to California and now lives in a small San Francisco area coastal community, where he alternates views between computer screens and the Pacific Ocean.